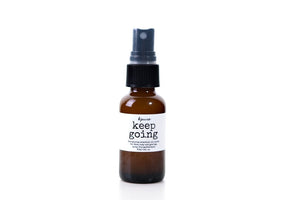 K'Pure Keep Going Spray 
Keep Going is a refreshing blend of lemon, spearmint and other organic essential oils. Ideal for before, during and after workouts or when the 3pm slump hits.   Organic witch hazel and coconut oil make it the perfect hydrating facial toner, that can also be used as a body spray, room spray and gym bag spray.  
1 fl oz. Made in Mission B.C.