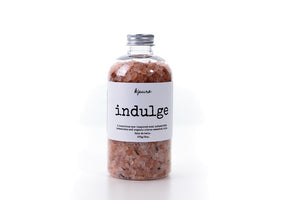 k'Pure Bath Salts Indulge
Indulge bath soak, with a blend of citrus and sage pure and organic essential oils with organic Hibiscus flower. Pink Himalayan salts to detoxify and improve hydration and mineral absorption. 
A combo of Pink Himalayan salts, organic Hibiscus Flower, organic lime, lemon and sage essential oils. 
8 oz. Made in Mission, B.C.